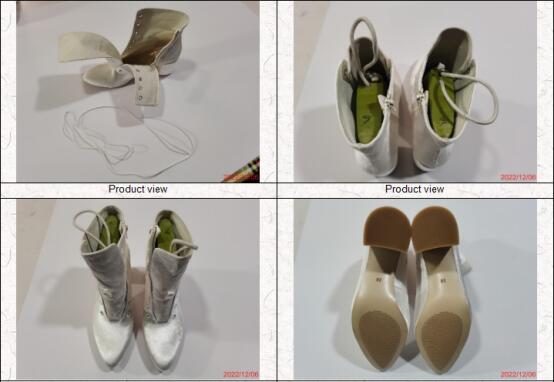 100% full inspection for highheels and boots;
Randomly Selected Samples:
Sampling inspection, also known as sampling inspection, is a statistical method that randomly selects a small number of products (samples) from a batch of products for inspection.Inspector choose products radomly for inspection.

Product quality inspection;
Including checking product workmanship.
1.1 Do not twist the upper, and the upper is scratched or damaged. (Such as leather: shoe head, shoe cover and outer waist, do not appear bad leather, such as insect spots, scratches, hemp spots, etc.). Whether the velvet material is faded and whether it is matched.
1.2 Do not mess up the side, do not wrinkle, pockmarked surface. Toe must be smooth and not angular.
1.3 There shall be no floating line, broken line, and no bottom line or jump pin on the upper surface.
1.4 Whether the toe warping comparison is consistent, and whether the comparison with the true sample is correct.
1.5 Compare the color difference of the upper of the sample shoes, and whether the brightness fog degree and the color wiping effect are the same as the true sample.
1.6 Trademark letter class check is correct, indispensable letters.
1.7 The inside of the shoe head should not be creased or pushed, and check whether it is climbing into the midsole (when making cotton shoes, consider putting the front half of the front foot of the front port treasure).
1.8 Check whether it has been pulled into the bottom plate, whether it has not been inserted or leaked, or whether the hardness of the port is not enough (especially the rear port must be hard).
1.9 The shoe tube shall not be rough, shall not be wrinkled, the zipper shall be smooth, and the lock mouth shall be one.
1.10 The shape of the arch of the instep must be standard and must not sink.
1.11 Whether the zipper is smooth, whether the skid is stopped, whether the fastness is enough, and whether the trademark is correct.
1.12 Whether the boot tube is smooth. Whether the inside of the boot is smooth and whether the stitching in the inside is in place.
1.13 Whether the boot is forward and backward.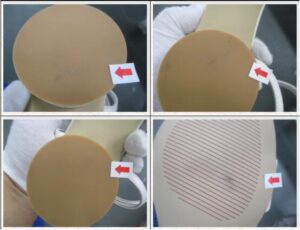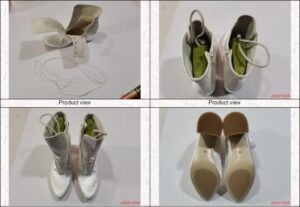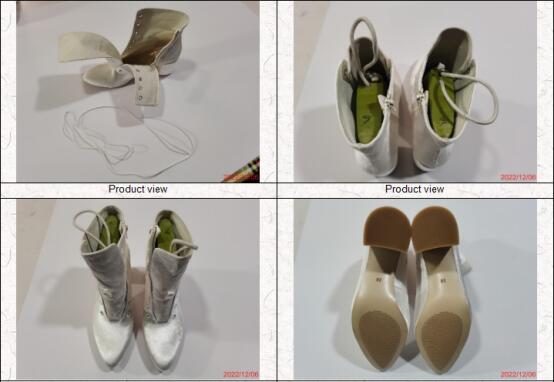 Measured data(Product size,Outer Carton size)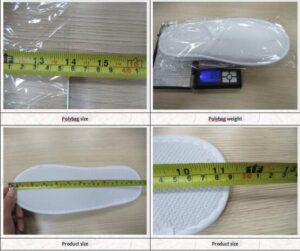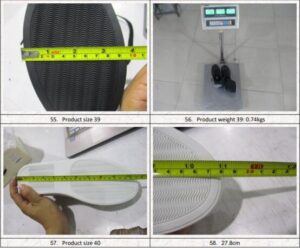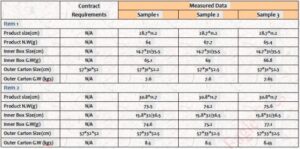 Special test for highheels and boots products.
1.Fitting check
2.Stability test
3.Glue firmness test
4.Pairing test
5.Pull test
6.Smell test
7.Basic function check (Functions on product specification work )
8.Barcode Scan
9.Needle detection test
10.Carton drop test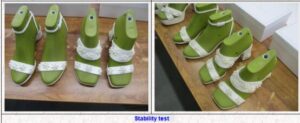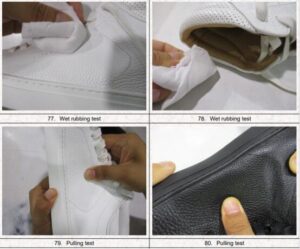 Packing check(color box,out cartons.)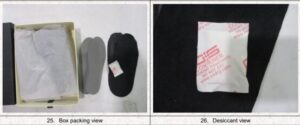 Inspection Report
Eagle eyes inspection company will send you report within 1 working day after inspection.The report shows the situation at the inspection site. Check and verify that the goods meet the requirements of size, weight, packing and workmanship according to the information provided by customer. Work is good, function test is normal.